Skip to Main Content
It looks like you're using Internet Explorer 11 or older. This website works best with modern browsers such as the latest versions of Chrome, Firefox, Safari, and Edge. If you continue with this browser, you may see unexpected results.
Theatre and Film Portals
Open Source Shakespeare - Not only all Shakespeare content, but text, concordance and character searches.
Canadian Association for Theatre Research
Theatre Database - Portal for information on theatre history, plays and playrights.
Plays Online
Online Playtexts - Greek and Roman plays
ProPlay - Scripts of produced plays submitted by their authors. Note the limitations of each on use and production.
Internet Archive - Note that full text is available only for the early 1920s and before. Most more current plays are protected by copyright and are not free online.
Theatre Productions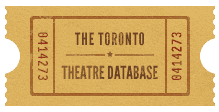 Internet Broadway Database - "IBDB provides records of productions from the beginnings of New York theatre until today."
Toronto Theatre Database - Production histories and dates for Toronto theatre
VANCOUVERPLAYS: Theatre in the Lower Mainland
MIT Global Shakespeares Video & Performance Archive - Open Access - "The Global Shakespeares Video & Performance Archive is a collaborative project providing online access to performances of Shakespeare from many parts of the world as well as essays and metadata by scholars and educators in the field."